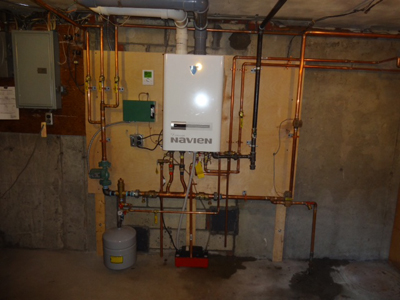 To ensure that your home has the right heating to keep you and your family warm and comfortable this winter, you should hire certified HVAC specialists in Worcester, MA to maintain your heating system. This has been a tough winter so far, and there is more to come. Don't allow your heating system to fail when you need it most. If you have noticed that your furnace can not keep up with demand, strange noises, or other issues with your heating system, call now for maintenance. During diagnosis, the HVAC specialists will determine the problems in your heating system and how to correctly conduct repairs before they worsen and/or become more costly to repair.
There are a wide range of options in heating systems in homes in New England. But whether you have a boiler, steam system, hot water system, or furnace, heating professionals at Greater Boston Plumbing know exactly how to take care your HVAC system, and how to fix it fast. When your heating system is running properly you can be comfortable that your home will be warm, safe, and energy-efficient all winter.
Even winter like the one we are experiencing this year does not have to be a pain in your wallet. You can keep the cold at bay inside. Obviously your heating system that plays a vital role in preserving the appropriate indoor temperature and air quality. If you even suspect that your heating system needs maintenance or replacement, heating professionals should be called immediately. Your HVAC system may only need a quick check-up or repair. But, if needed, a heating system replacement will ensure that you and your family will have a reliable, efficient, safe heating even in this extremely cold weather. You need your heating system to function at optimum performance to generate the right amount of safe heat.
For more information, contact Greater Boston Plumbing and Heating.